Na 21. ART TREMA FEST RUMA u organizaciji Gradskog pozorišta Ruma žiri u sastavu Miroslav Radonjić, teatrolog, Zijah Sokolović, dramski umetnik i Cvetkovic Goran, reditelj i pozorišni kritičar, dodelio je specijalnu plaketu Trema ansamblu predstave "Da i Re, Telo kao instrument" u produkciji Otvoreni Krug Novi Sad za istraživanje zvuka kao pozorišnog izraza.
Hvala Rumljnima, koji su bili divna publika! Hvala Zoltan Fridman na iznenadnom pozivu. Hvala cenjenom žiriju na ovoj specijalnoj nagradi, skrojenoj po meri naše predstave. Parafraziraću gospodina Radonjića: "To nije ni predstava, ni koncert, ali je, svakako, pozorište!" I hvala Visnja Obradovic, našoj rediteljki, jer nas je uvek troje na sceni.
_________________________________________________
"Da i Re, body as an instrument" was awarded at Trema Art Fest, theater festival in Ruma, Serbia with Trema special award of the jury for exploration of sound as means of expression in theater. Thank you!
Foto: Marko Radojičić
#arttremafest #tremafest #tremafestival #ruma #daire #bodypercussion #aliceinwonderband #predstava #koncert #specijalnaplaketa #trema21 #bluerockcafe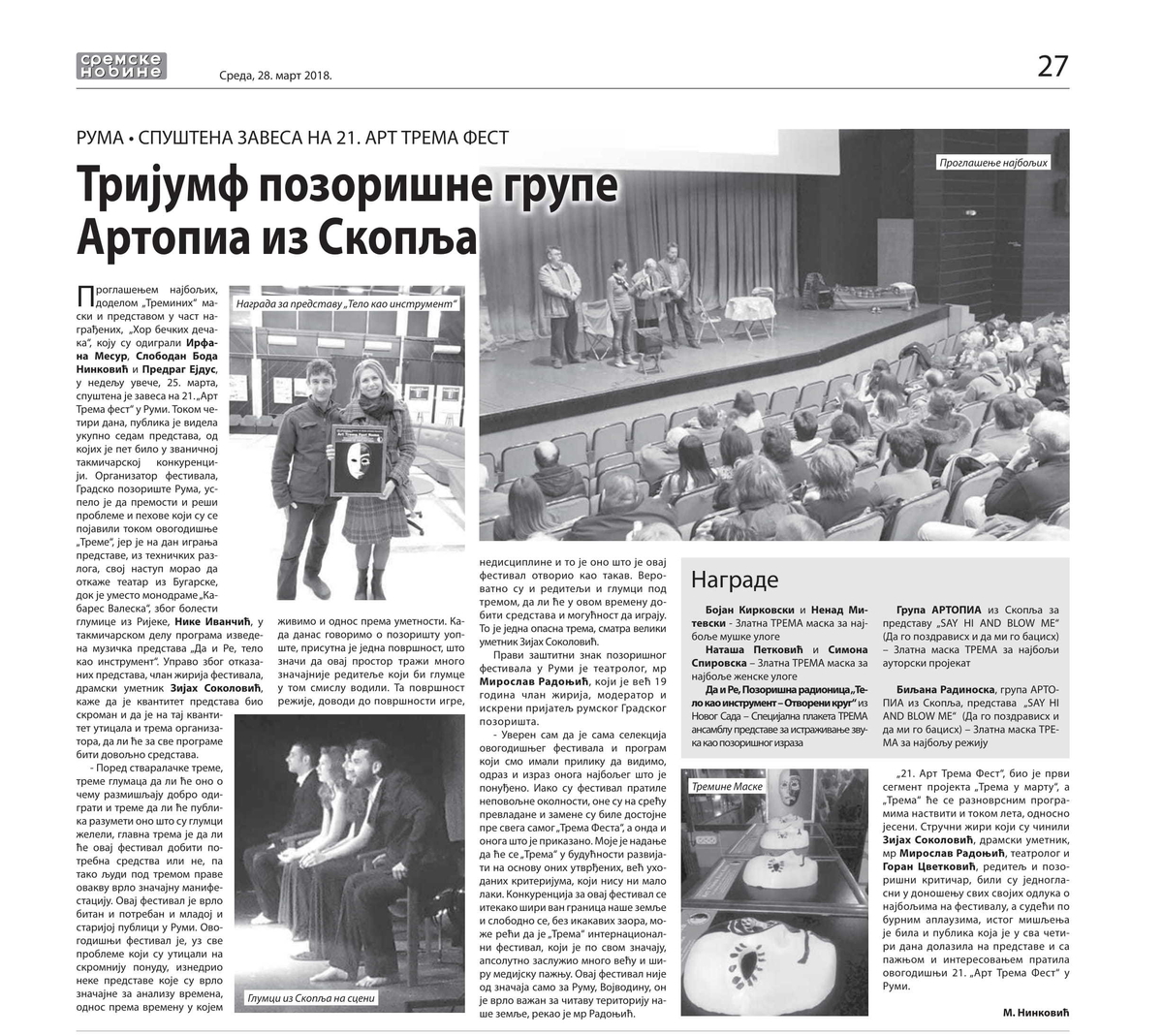 Iz Sremskih novina, 28. 04. 2018. godine